Binding
Let Koeber's take care of your carpet binding and custom area rugs in house! Our custom workroom will cut and bind your carpet to any desired shape or size. Add non-skid rubberized backing or pad to complete your rug. We also pattern and bind stair runners for installation.
Bring in your own carpet or let us help you select one to order in to create the perfect rug. There are several binding styles to choose from. Call for pricing or request a quote below...
Custom border area rug
Stark Area rug with Custom border & binding
Street of Dreams Dining Room Rug
We loved choosing this statement rug pattern under our Dinec dining set!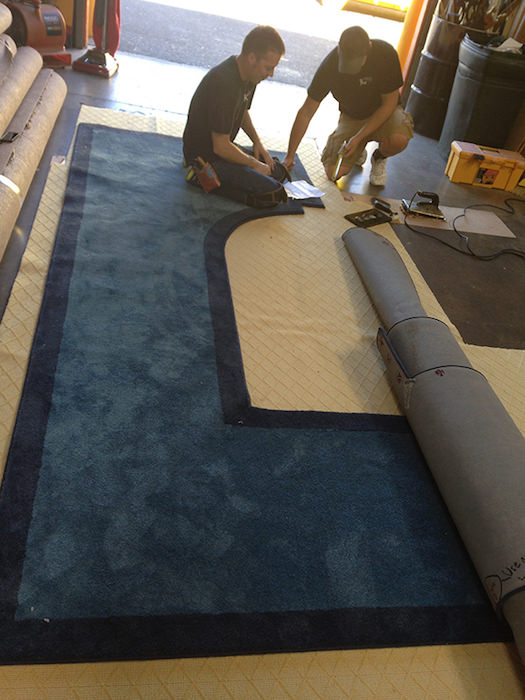 Custom fit rug
Custom rug for kitchen. Diagrammed, cut and bordered by our crew.
Leather Wide Bind
Wide Leather bind with mitered corners
Stair runner bound edge
Bound edge on this stair with an exposed side.
Bound stair runner
Stair runner bound on the edge.
Stair runner with serging
Serged wool stair runner.
Red Carpet at Fundraiser event
Standard binding on our red carpet for the fundraiser kickball tournament we participate in yearly.
Hallway Runner
Custom hall runner that continues into a stair runner.
Shaw Area Rug
Beautiful Shaw carpet bound to a living room area rug.
Custom Border
In mid-fabrication of a custom bordered rug.
Taza Stair Runner
Bound stair runner custom fit
Taza Stair Runner
Custom bound stair runner
Bound Stair Runner
Short tight loop made for durability on this staircase. Bound with standard binding.
Custom Kane Shag Rug
Custom Kane rug fabricated to the custom size.
Custom Wool stair Runner
Custom wool stair runner bound with serging.
Custom Stair Runner Standard Binding
Patterned custom stair runner Tuftex carpet, herringbone, bound with standard edge bind to match.